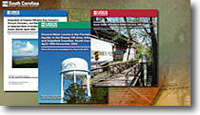 PUBLICATIONS
ABOUT THE SOUTH ATLANTIC WSC - SOUTH CAROLINA
USGS IN YOUR STATE
USGS Water Science Centers are located in each state.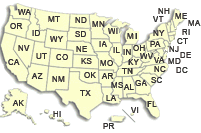 South Carolina Water Science Center Publications
Surface Water

The South Atlantic Water Science Center - South Carolina publishes water-information reports on many topics and in many formats. From this Web page, you can locate, view, download, or order scientific and technical articles and reports as well as general interest publications such as booklets, fact sheets, pamphlets, and posters resulting from the research performed by our scientists and partners.
2015 Publications
Open-File Report 2015-1201
Preliminary peak stage and streamflow data at selected USGS streamgaging stations for the South Carolina flood of October 2015
2014 Publications
Scientific Investigations Report 2014–5104
Scaling Up Watershed Model Parameters—Flow and Load Simulations of the Edisto River Basin, South Carolina, 2007–09
Open File Report 2014–1113
Low-Flow Frequency and Flow Duration of Selected South Carolina Streams in the Catawba-Wateree and Santee River Basins through March 2012
Scientific Investigations Report 2014-5030
Methods for estimating the magnitude and frequency of floods for urban and small, rural streams in Georgia, South Carolina, and North Carolina, 2011
Fact Sheet 2014-3015
Estimating flood magnitude and frequency for urban and small, rural streams in Georgia, South Carolina, and North Carolina, 2011
2013 Publications
Scientific Investigations Map 3244
Flood-Inundation Maps for the Saluda River from Old Easley Bridge Road to Saluda Lake Dam near Greenville, South Carolina
Open-File Report 2013-1251
Flood-Inundation Maps for the Saluda River from Old Easley Bridge Road to Saluda Lake Dam near Greenville, South Carolina
2012 Publications
Open-File Report 2012-1253
Low-Flow Frequency and Flow Duration of Selected South Carolina Streams in the Saluda, Congaree, and Edisto River Basins through March 2009
2011 Publications
Open-File Report 2011-1201
Assessment of hyporheic zone, flood-plain, soil-gas, soil, and surface-water contamination at the Old Incinerator Area, Fort Gordon, Georgia, 2009-2010
2010 Publications
Open-File Report 2010-1305
Low-Flow Frequency and Flow Duration of Selected South Carolina Streams in the Broad River Basin through March 2008
Scientific Investigations Report 2010-5244
Analysis and Simulation of Water-Level, Specific Conductance, and Total Phosphorus Dynamics of the Loxahatchee National Wildlife Refuge, Florida, 1995-2006
Open-File Report 2010-1169
Continuous Tidal Streamflow, Water Level, and Specific Conductance Data for Union Creek and the Little Back, Middle, and Front Rivers, Savannah River Estuary, November 2008 to March 2009
Scientific Investigations Report 2010-5202
Simulation of Streamflow in the McTier Creek Watershed, South Carolina
Open File Report 2010-1054
Assessment of Soil-Gas, Surface-Water, and Soil Contamination at the Installation Railhead, Fort Gordon, Georgia, 2008-2009
2009 Publications
Open-File Report 2009-1171
Low-Flow Frequency and Flow Duration of Selected South Carolina Streams in the Pee Dee River Basin through March 2007
Scientific Investigations Map 3076
Bathymetry of Lake William C. Bowen and Municipal Reservoir #1, Spartanburg County, South Carolina, 2008
Scientific Investigations Report 2009-5156
Magnitude and Frequency of Rural Floods in the Southeastern United States, 2006: Volume 3, South Carolina
Fact Sheet 2009-3085
Methods for Estimating Magnitude and Frequency of Floods in Rural Basins in the Southeastern United States: South Carolina
Scientific Investigations Report 2009-5099
Development and Evaluation of Live-Bed Pier- and Contraction-Scour Envelope Curves in the Coastal Plain and Piedmont Provinces of South Carolina
Data Series 315
Bathymetric, velocity, streamflow, and dissolved oxygen data on the Pee Dee River near Bostick Boat Landing, Florence County, South Carolina, May-August 2007
Open-File Report 2009-1120
Estimation of Missing Water-Level Data for the Everglades Depth Estimation Network (EDEN)
Open-File Report 2009-1037
Continuous Tidal Streamflow and Gage-Height Data for Bass and Cinder Creeks on Kiawah Island, South Carolina, September 2007
2008 Publications
Fact Sheet 2008-3001
Hydroacoustic Applications in South Carolina: Technological Advancements in the Streamgaging Network
Scientific Investigations Report 2008-5170
The Effects of the Saluda Dam on the Surface-Water and Ground-Water Hydrology of the Congaree National Park Flood Plain, South Carolina
2007 Publications
Scientific Investigations Report 2007-5110
Analysis of Salinity Intrusion in the Waccamaw River and Atlantic Intracoastal Waterway near Myrtle Beach, South Carolina, 1995–2002
Open-File Report 2007-1350
Hydrologic Record Extension of Water-Level Data in the Everglades Depth Estimation Network (EDEN) Using Artificial Neural Network Models, 2000–2006
2006 Publications
Scientific Investigations Report 2006-5187
Simulation of Water Levels and Salinity in the Rivers and Tidal Marshes in the Vicinity of the Savannah National Wildlife Refuge, Coastal South Carolina and Georgia
2001 Publications
Fact Sheet 001-00
The National Flood-Frequency Program—Methods for Estimating Flood Magnitude and Frequency in Rural and Urban Areas in South Carolina, 2000

Order USGS maps, products, and publications